By Eli Glasman

I was brought up in an Orthodox Jewish family in the suburb of Caulfield, Melbourne. I was religious throughout my childhood and early teens. However, at seventeen I found that the religious life wasn't for me.
The sect of Judaism I was part of was Lubavitch, who are quite integrated into main stream society, so the change wasn't too much of a culture shock for me. There were little things – such as not wearing a yamulka for the first time in public, and eating non-kosher. I remember the first few times I didn't wear a yamulka, I was acutely aware of the air on my naked hair and it made me feel uneasy. And it was a while until I could eat non-kosher without feeling slightly guilty.

However, everyone around me, including religious friends and family, were accepting and respectful. Even if they may not have agreed with my choices, they were still inclusive and loving.
I really don't hold any resentment about my upbringing. And I certainly didn't when I started writing my novel, The Boy's Own Manual to Being a Jew. I guess, since it's about a homosexual boy in the orthodox Jewish community, when I spoke to many people about it there was the automatic assumption that I would be bitter and the book would be an attack on the community.

Yet, I was very careful as I wrote my book. I ensured that I took a measured approach, that I researched and had discussions with people to get a fair perspective on the issue. The intention was that the main character, Yossi, would learn to find a place for himself, as a homosexual, within his faith. So, to show Yossi's love of Judaism and his community were crucial to showing why he would want to remain religious.
As I was writing, I realised (possibly being a little arrogant), that the book was likely to get published. And, to be honest, I did become slightly afraid about how it would be received.
I guess I was scared I would be 'attacked'. As soon as I stepped into the public eye, I would be told off regularly and people would bad mouth me on the internet. I knew none of my friends or family would, but there's something scary about putting yourself out there to complete strangers.
What I've learnt though, in my very minor and probably short lived stint in the public eye, is that as long as I'm careful about what I say, I edit what I write based on the input of others and I'm always open to discussion, most reasonable people will not 'attack' me. How a person reacts to something they don't agree has more to do with their personality type than anything. Some are able to acknowledge the differences in others and are genuinely loving and kind, so that no matter what I might think, even if they don't agree, they will still be lovely people. And those who do attack me are - to put it bluntly - just jerks.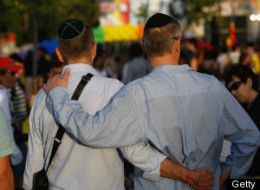 Everyone in the community, even those I've those I've never met, have been truly lovely. I've had some early readers say that they felt I was too kind on the religious community in my book. There were a wide variety of reactions from the characters when Yossi finally comes out of the closet and they advised me that they felt that some of religious characters whom I'd depicted responding well to Yossi coming out, wouldn't have responded as well in real life. But, I'd written warm characters who responded to Yossi with love, because that has been my experience of the community.
Perhaps I had romanticized my upbringing. But, as I wrote it, I felt as I was simply being honest.

To hear more about Eli's story don't miss his sessions at the upcoming Sydney Jewish Writers Festival on Sunday 25 August at Shalom College, UNSW.

Coming out in the 21st century – Who cares? with Prof. Dennis Altman, moderated by Miri Jassy from 2-3pm.

To learn how Eli managed to get his first novel published:
Getting published is really hard, but … with Joanne Felder and Lisa Goldberg, moderated by Kate Steinweg from 4:30pm-5:30pm.
Full program details and ticket information are available at www.sjwf.org.au or call 9381 4160.

Join us on Facebook and Twitter @SJWFestival #SJWF2014